I've been attending
Wondercon
, San Francisco's epic geekfest celebrating all things Pop Culture, for years, ever since they launched it in Oakland. This year seemed to be the biggest yet, or maybe I'm just getting smaller. I mainly go for the movie stuff since that's my biz, but I dig all of it - the toys, the comic books, the shmoozing. But every year I go I experience the same succession of conflicted emotions: first it's "Wow, great to be here!" shortly followed by "What the hell am I doing here?" to "Get me the hell out of here!" Kind of like when I visit Vegas. Walking through the crowded aisles of Wondercon is like strolling through a dog kennel: don't make eye contact unless you plan to bring this puppy home. The longing looks can break your heart.
The main attraction for me this year was a chance to meet my hero
Adam West
again. He was selling his autograph for $50 and a chance to take a photo with him for $30: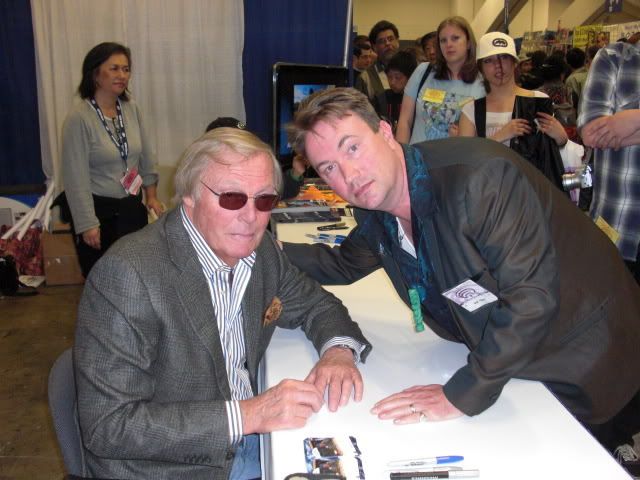 Thrillville meets Gotham City
Adam was not wanting for attention in his booth. I waited patiently in line and even stood behind him as he was interviewed for some cable show. I'd already scored his autograph on a lobby card reprint from the 1966 feature length film Batman (which I've shown several times) when he appeared at a celebrity show in Burlingame years before. I brought my vintage "Batman" Viewmaster discs for him to sign but instead opted for the photograph. I dropped our pal Yvonne Craig's name and he seemed bemused. I told him I showed the feature film on a regular basis, which seemed to interest him somewhat. The highlight of this expensive encounter was listening to him read my business card aloud, in his trademark Adam West voice: "Lounge lizard for hire - I like that!" Man, if only I had that on tape. I'd pay $100 for that! In fact, I heard that's the price Mark Hamill was asking for his autograph. I've never been a big

Star Wars

fan, though Mark is my fourth favorite "Joker" (he did the voice on the animated series.)
I also had my picture taken with another childhood icon, David Hedison, of Voyage to the Bottom of the Sea and The Fly fame. I'd also met David at the Burlingame show. He is Mr. Nice Guy. This only cost me $10: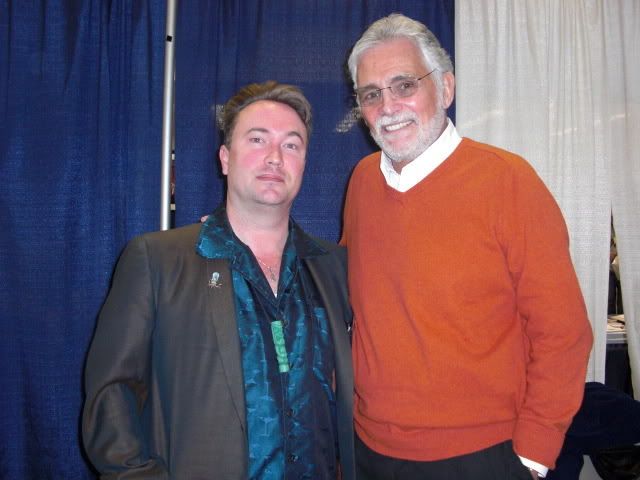 With David Hedison, AKA Captain Crane



Later I ran into another famous Dave, one I know personally: David Hess, star of the original Last House on the Left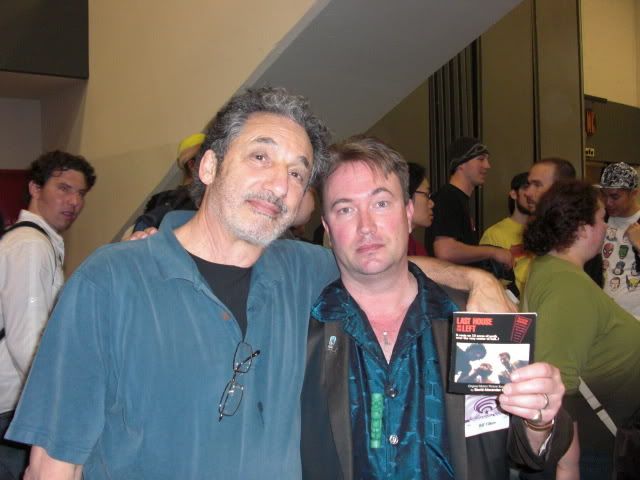 I first met this David a few years ago when he attended a play my wife Monica Tiki Goddess was in. He was with director Rob Nilsson, who made the film Scheme C6, also starring Monica. This film was part of the 9@Nite series and in fact I made a cameo as myself in the final entry, Go Together, which was largely filmed at The Parkway. David is in this film as well, so he shares my solo film credit to date. David appeared at the Cerrito for a screening of

Last House

once, but my favorite memory is that night I first met him, when we were sitting in a San Leandro Mexican restaurant after the play, and he turned to me and said, "Hey man, I really like your wife!" Now, if you've seen

Last House

or Hitch-hike or House on the Edge of the Park, you realize what a loaded compliment that is. It's nice to have your wife admired, but not by an infamous cinematic killer-rapist. Actually, in real life, David is primarily a musician. I bought his original soundtrack for

Last House

, which you can buy on his web site. I also remember when I met him I said, "Hey, why did Wes Craven put all that hippie music in

Last House

? It killed the mood!"

As usual I chatted a bit with my pal

Rafael Navarro

, creator of the lucha libre comic book Sonambulo. Every time I see him, I know another year has passed. Time is going by way too quickly. Stuff like this keeps you young, though.