Buz Murdock (George Maharis) and Tod Stiles (Martin Milner) cruise early '60s America via Corvette
Route 66
is one of those old classic shows I'd always heard about but never watched until it came out on
DVD
from
Infinity Entertainment
. I only knew about it because of
Nelson Riddle's
richly evocative theme music (not to be confused with the
famous old chestnut
of the same name, made popular by
Nat King Cole
.) I'd also heard about it from my step-mom
Anne Helm
, who guest-starred in a few episodes. It aired from 1960-64 and for most of its run starred
Martin Milner
(formerly of my favorite flick
Sweet Smell of Success
and later
Adam 12
) and
George Maharis
(
The Satan Bug
) as two open-minded guys who take to the open road in their super-sleek Corvette, encountering all kinds of neurotic, interesting characters and delving into all sorts of adventures, mysteries and hi-jinks from coast to coast (rarely taking place anywhere near the titular highway). Their itinerant lifestyle seemed to presage the looming youthful revolution and "freedom movement." They took a variety of odd jobs that put them in odd situations with some odd people. Some episodes are naturally more engaging than others, but the trip never gets boring.

What really made this show memorable and unique was the location cinematography, creating a veritable time capsule of rural, small town and urban America circa the Kennedy era. Watching this show, you feel like an alien viewing a strangely stylish alternate universe via a magical monitor. The people resemble today's human beings, they speak the same basic language (except for some period jive talk), the situations they're in still resonate with relevance, and the gorgeously gritty B&W scenery is apparently our own strip mall fast food nation - except everything looks and feels completely different than the current era (unless you know where to look for the remnants). The clothes, the fashions, the dialogue, the music, the vehicles, the sundry bars, restaurants, roadside inns, drugstores, nightclubs, houses, the ambiance all quietly pulsate with a palpable sense of Long Long Cool.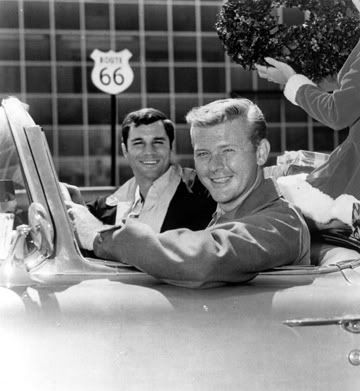 This show, now digitally preserved and readily accessible, is an indispensable document of a special time in our collective history. There's a "beat" feeling permeating the proceedings, obviously inspired by the work of Kerouac (Marahis sort of resembled him), and the stories (mostly conceived by prolific series creator Stirling Silliphant) echo the Method melodramatics of Playhouse 90. Often they went overboard with the moralizing, but there was a dark subtext running throughout the imaginative plots, which were quite daring for the time. Drugs, sex, murder, racism and other socially dynamic themes were often explored and exposed with a poetic but hard-boiled realism. In retrospect, the roster of guest stars was simply amazing. There is no way they could make this show today. It would be too expensive to take an entire cast and crew on the road - the scouting of locations alone would cost too much - and frankly, I'm not sure today's America could endure the aesthetic scrutiny. We're just too homogenized. Back then the USA was a cornucopia of regional and ethnic disparity, individualistic and uniquely expressed. Today we're mostly an increasingly cloned collection of chain stores. So Tod and Buz missed the sale at Best Buy in this town? They can make it in the very next one. Need some coffee for the road? There's always a Starbucks right around the corner. This show makes me want to cry, and not always due to the plight of the characters.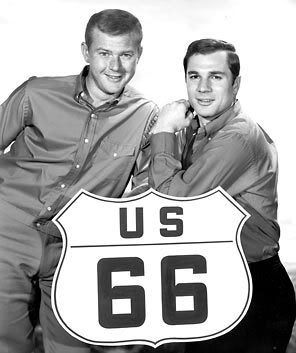 Below are a few standout episodes from the first couple of seasons, all I've watched so far:

"The Clover Throne" (Season 1, 1961) - this one stars my step-mom Anne Helm as "Sweet Thing," filmed in Indio, Southern California.

"Play It Gissando" (Season 1, 1961) - Jack Lord is a jealous musician who torments his wife played by Anne Francis. Filmed in and around LA.

"The Opponent" (Season 1, 1961) - Darren McGavin is a washed up fighter hoping for a comeback, and Ed Asner is his cynical manager. Filmed in Youngstown, Ohio.

"Good Night, Sweet Blues" (Season 2, 1961) - Ethel Waters is a dying blues singer who wants to sing with her old jazz band one last time, so she sends Tod and Buz to search them out. Filmed in Pittsburgh, PA

"Birdcage on My Foot" (Season 2, 1961) - Robert Duvall guests as a junkie forced to kick the habit . Filmed in Boston.

"Mon Petit Chou" (Season 2, 1961) - Lee Marvin guests as a tough guy manager in love with his songbird, also filmed in Pittsburgh and directed by Sam Peckinpah.

"The Thin White Line" (Season 2, 1962) - at a party in Philly, someone spikes Tod's drink and he runs out roaming the streets in an increasingly wild state of pure hysteria, leading to suicidal mania. There's an establishing shot of the old Kona Kai restaurant in the Marriott Hotel, but unfortunately we never see the interior.

"And the Cat Jumped Over the Moon" (Season 2, 1962) - also shot in Philly (I really dig these episodes because I grew up across the Delaware River in South Jersey), this one was obviously inspired by West Side Story. A young, crazy, nearly unrecognizable Martin Sheen is a gang leader, and a baby James Caan is his rival. Maybe my favorite episode so far.

There's a third season episode called "Lizard's Legs and Owlet's Wings" which reunited Boris Karloff and Lon Chaney Jr. who reprise their famous

Frankenstein

and

Wolf Man

roles, respectively. Look forward to that one and many more adventures on the road with Tod and Buz (Maharis dropped out of later episodes due to contract disputes, replaced by Glenn Corbett as Lincoln Case) through midcentury America, the Land of the Free (well, the Civil Rights Movement), the Brave - and the Cool.