I know the Chinese say this is the Year of the Ox, but so far, as far as I'm concerned, 2009 is the Year of the Living Dead. It's only mid-February and we've already lost a lot of cool people. My wife's grandfather just died, and celebrity-wise, since December, we've lost
Bettie Page
,
Eartha Kitt
,
Ann Savage
,
Lux Interior
,
Ricardo Montalban
,
Patrick McGoohan
, and probably others I'm too depressed to think about.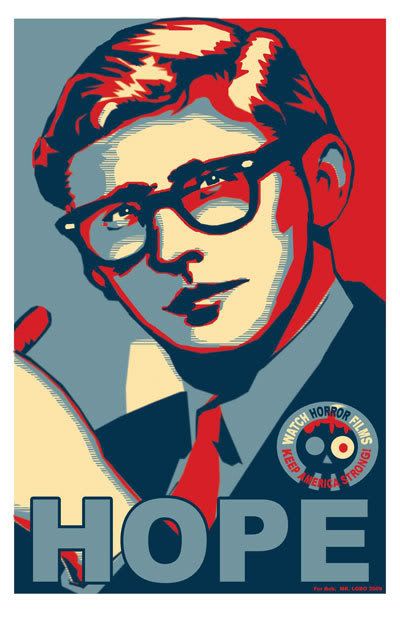 Bob Wilkins: Watch Horror Films, Keep America Strong! Poster by Mr. Lobo
Then there are the recently dead people who were both beloved by the public and by us personally - famous friends. On January 7 of this year, I lost two of them at once: local
Creature Features
icon
Bob Wilkins
and cult movie god
Ray Dennis Steckler
. Both were frequent guests at my
Thrillville
show, dating back to 2000. Both contributed a great deal to the culture of Crap Cinema. And both were good friends of mine.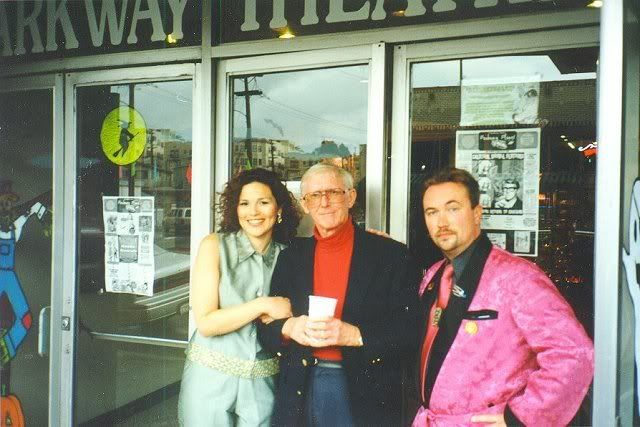 With Bob, October 2000
I didn't grow up watching Bob Wilkins or his successor, our pal
John Stanley
, when they hosted
Creature Features
on KTVU out of Oakland. I grew up in South Jersey and my TV horror host was
Dr. Shock
out of Philly, who passed away in '79, the same year I was exiled to California. But I heard about Bob as soon as I moved to the Bay Area from LA in '85. Bob had been off the air since '79 and John, also an accomplished writer and well known film expert, was about to retire from the airwaves as well by the time I arrived on the local scene. Bob was already a legend whose reputation only grew over time. I was honored to have Bob as my special guest for six successive "Creature Features" reunion shows in Thrillville, also featuring John Stanley as well as KTVU journalist
Bob Shaw
and "CF" archivist
Tom Wyrsch
.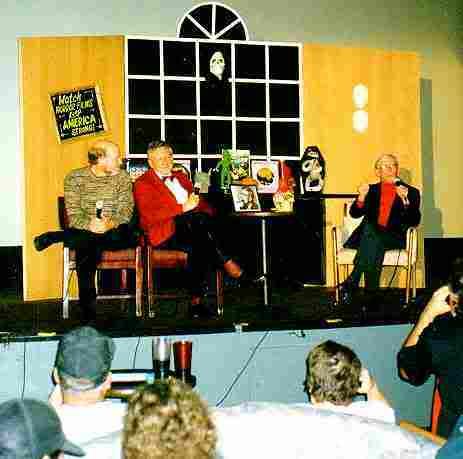 Bob Shaw, John Stanley and Bob Wilkins, Parkway, October 2000
Bob also starred as
"Captain Cosmic"
on an afternoon kiddie TV show in the '80s, showing a lot of Japanese sci-fi TV shows, so one year we did a live tribute to CC, even bringing the Cap's old robot pal,
T2T
, out of mothballs for his first personal appearance in years.
With T2T, Bob, and
Mr Lobo
,
Parkway, October 2002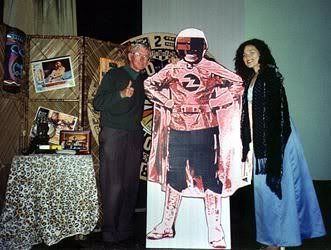 Monica and her childhood hero, Captain Cosmic
,
October 2002
The last time Bob appeared in Thrillville was for a special benefit raising money for the Alzheimer's fund in his name, co-presented by
Bay Area Film Events
. We showed the first movie Bob ever hosted, back on his Sacramento show,
Attack of the Mushroom People
. Funny, Bob used to always pretend he didn't remember me (though he always remembered my wife, Monica) –until the end, when he wasn't kidding.

KTVU segment on Cerrito Speakeasy benefit for Bob Wilkins, March 2007
We had the honor of attending Bob's memorial service at the
Montclair Presbyterian Church
on January 24, 2009. Ray's widow
Sally
and his grown kids
Rob
and
Nan
all told heartwarming and hilarious anecdotes. My favorite was how Bob used to attend this very church and write on a prayer card,
"Help! Get me out of here."
On the way out, I wrote the same and signed it, "Bob."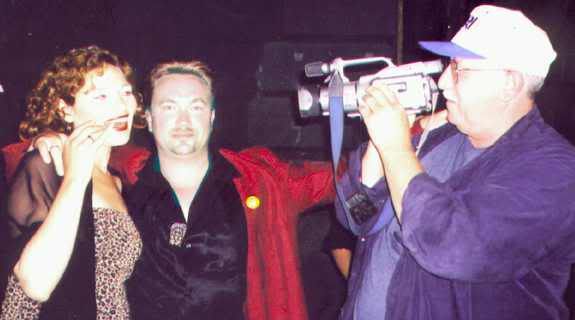 With Ray, Parkway, August 4, 2000
I remember watching
The Incredibly Strange Creatures Who Stopped Living and Became Mixed-Up Zombies
on TV when I was a kid, and it scared the hell out of me. To this day it remains one of the most surreal films of all time - the first "monster musical." I can't imagine
David Lynch
was not inspired by this psycho-delic classic. It was my supreme honor to chase its creator, Ray Dennis Steckler, around the packed
Parkway Speakeasy Theater
in Oakland on Valentine's Day 2002, wearing a "Cash Flagg" hood and waving a plastic axe, during a rare screening of this very masterpiece. The print was faded and butchered (Ray could only afford to make a few prints of each of his films, many were illegally copied and bootlegged for foreign exhibition), and it carried the alternate title,
Teenage Psycho Meets Bloody Mary.
Naturally, the fragile print broke right in the middle of our melee, so Ray ran up on stage and improvised till the film was repaired. I informed the audience a zombie had infiltrated the booth. Ray knocked 'em dead.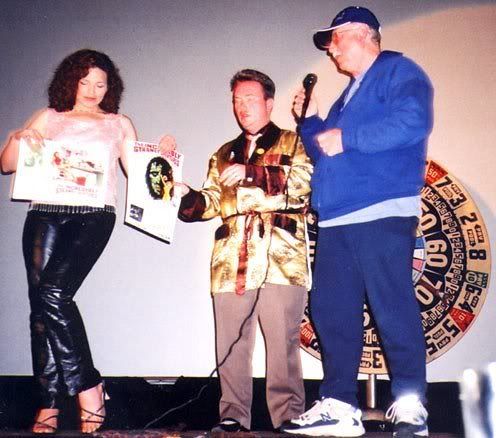 Ray on stage, right at home
,
Parkway, Valentine's Day, 2002
Back in the '60s, Ray personally distributed and promoted his own films, including
The Thrill Killers, Rat Pfink a Boo Boo, Lemon Grove Kids Meet the Monsters
, and
Blood Shack
. I was proud to co-present personal prints of all of these films at various shows with Ray over the years, at both the Parkway and the now defunct
Fine Arts Cinema
in Berkeley, where one night I wore Ray's original Mummy outfit while chasing him around the audience during a screening of
Lemon Grove Kids
.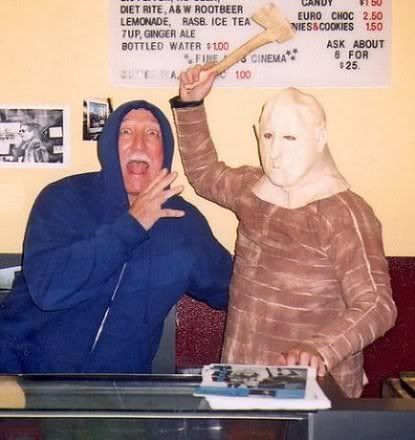 At the Fine Arts Cinema, Berkeley
,
February 2002
Ray was always pleased to greet his fans, no matter how large or small the crowd. And he had many. Ray's big heart finally gave out at age 70.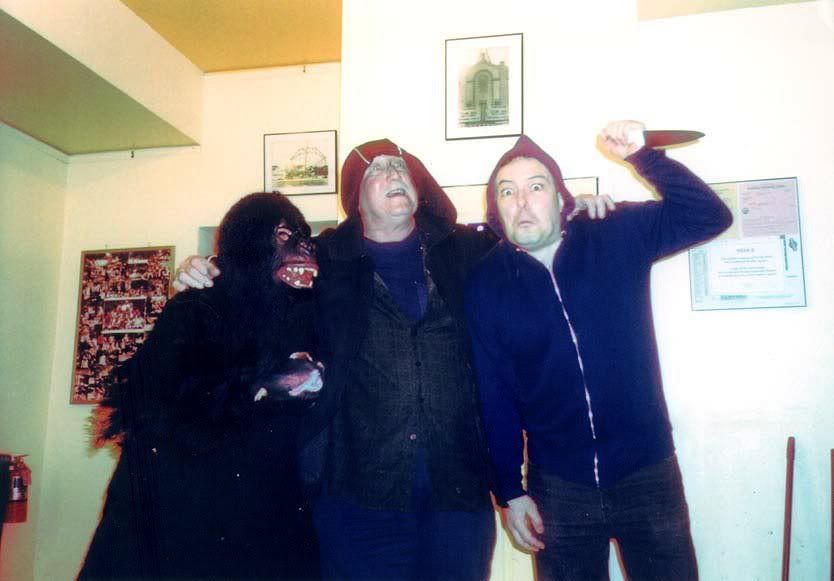 "Cash Flagg" with fans Gorilla X and Jello Biafra
,
Parkway, January 2003
Here's to a couple of cool, coo coo guys I owe a lot too. I can wait to pay you back, though. See you in B Movie Heaven, fellas.